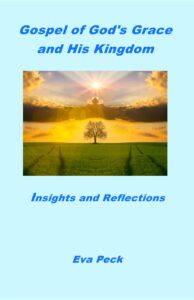 This book, Gospel of God's Grace and His Kingdom, was originally inspired by Paul's farewell address to the Ephesian elders on his way to Jerusalem (Acts 20:24-27) where Paul refers to the gospel he received from Jesus as the gospel of God's grace and "preaching the kingdom". He also equates these with "the whole will of God". So in Part Two, the book addresses three questions: What is God's grace? How is grace connected to the kingdom? How is the gospel of God's grace and of the Kingdom "the whole will of God"? 

First, however, we briefly explore the nature of God – the God of grace – based on the Bible, other reading, and personal insights. The danger of false or misunderstood grace is also looked at, as is Paul's dramatic awakening to grace.
Part Three deals with specific aspects of the gospel of grace. It examines the new birth and what this process entails, how the Holy Spirit works in our lives, and what is becoming our relationship with the Father, Jesus, the Christ, and the Spirit.
Part Four further expands on the nature and working of the Holy Spirit, the vital player in the transformation process which imparts Divine Love and substance to human souls.
The last part shows how each of us can avail ourselves of God's lavish offer of abundant grace that will place us on the path to salvation, being born again or from above, and achieving our destiny which is an incredible future in God's Celestial Kingdom for all eternity.
See this page for the author's other books on spiritual subjects.
Australian readers may find a better value for Gospel of God's Grace and His Kingdom at Fishpond which sells discounted books and delivers them postage-free.
The books is downloadable from Amazon (and elsewhere) as a paperback or Kindle. It is also downloadable as a free ebook in PDF format from my website, Universal Spirituality where readers can also go if they wish to learn more after reading the book.