The Experiencing Divine Love Series consists of four volumes and a fifth book which focuses on praying to experience Divine Love. The material is a compilation of conversations in a Facebook group. The topic range is quite large and includes the following and more:
Being Led onto the Divine Love Path
Prayer Practice
Background Music During Prayer
Approaching God as a Little Child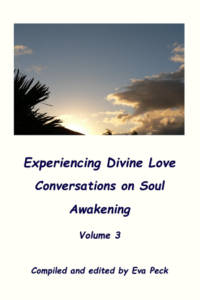 What Goes on with the Reception of Divine Love?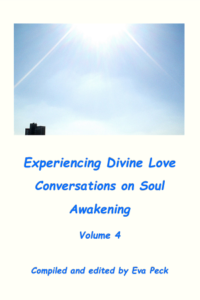 Feelings Connected with Divine Love Inflowing
Connecting with God
Releasing Things that Come Up During Prayer
How "Free" Is Our Free Will?
Walking Both Divine Love Path and Natural Love Path
Divine-Human Cooperation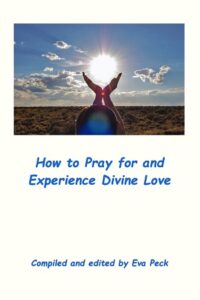 Goal of Spirituality
Soul Development versus Spiritual Development
Receiving Downloads
Receiving and Discerning Guidance
How Divine Love Changes Us
Change in Experience/Perception of God
Divine Love Changing Relationships
Inner Harmony Outside of Prayer Time
Being in the World But Not of It
Consciousness of the Mind Versus That of the Soul
Reaching the Father through Mother Earth
Doing God's Work in Sleep State
Sharing Spiritual Insights with Others
Discipline in a Long-Distance Race
Causes and Consequences
All five books of the The Experiencing Divine Love Series are downloadable as PDFs from
How to Pray and Experience Divine Love
[Compilation of chapters on the topic from the other Volumes.]