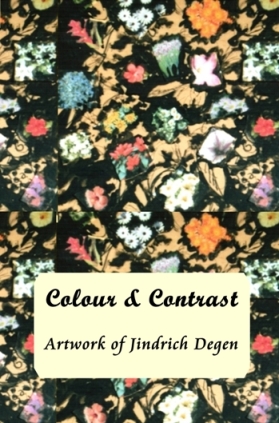 Colour and Contrast – Artwork of Jindrich Degen is a collection of about 200 of Jindrich Degen's paintings that have been arranged by his daughter, Eva, with assistance from her husband Alex. Jindrich actively participated in selecting, editing, titling, and categorizing each work of art in the book.
The art in this collection is similar to Artistic Inspirations. The main difference is in the layout. In this book, each work of art appears on a separate page, whereas in the previous book, several works appear on a page.
Preview and Purchase Information 

Colour and Contrast – Artwork of Jindrich Degen exists in two formats – budget and deluxe. The budget edition is available through Amazon (where it can also be previewed) and many other online outlets. Australian readers may find a better value at Fishpond which sells discounted books and delivers them postage-free. Check it out by clicking on the images or links.
For a preview and purchase information of the deluxe edition, click on the image on the right.
Colour and Contrast – Artwork of Jindrich Degen is also available (from Apple devices only) as a free ebook (ibook) under the title Artistic Inspirations.
Comments on Jindrich Degen's Artwork
Thank you for your paintings in which I see light and hope. I like the harmony of colours and shapes which give the impression of movement. Your artwork reflects optimism.
Ali D. (United Kingdom)
The colours in Jindrich's art are very positive, reflecting optimism, as well as purity and wholesomeness. His versatility is amazing – the way his artwork ranges from impressionism and abstract to portraits and still lifes.
Col B. (Australia)
Other comments, more art, as well as a more detailed biography of Jindrich (Henry) Degen can be found on his website. 
Feel free to make a comment or review the book at Amazon.