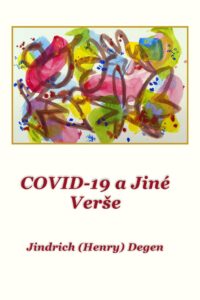 COVID-19 and Other Verse (COVID-19 a Jiné Verše), composed by Jindrich Degen at 97 in response to the pandemic and current events features 19 poems with illustrations by Jindrich's largely abstract artwork.
The book is only available as a PDF at this time, and is downloadable from COVID-19 a Jine Verse
To read some other of Henry's Czech poetry, visit his website.  See also Contemporary Verse and Free Verse both composed by Jindrich Degen, which can be purchased as paperbacks.
For those who can read Czech, here are two samples from the book:
Náhlá změna
Nic na světě není stále,
dnes a denně i nadále.
Jako divadelní scéna
přišla najednou ta změna.
Jak když květy zavadnou,
Lidé tomu propadnou.
VIRUS je teď jméno toho,
Co pustoší rázem mnoho.

Káže lidem – "Ne u stolu
sedávejte teď pospolu!
Proměníte celé nebe,
Když jste takhle blízko sebe!"

Je to krásné?
Člověk žasne …
O kočce
Naše milá kočka
Zostří svoje očka;
Na své jídlo počká,
Až se jej dnes dočká.
Snad moc nevychladne
Není to tak snadné
Doma je přec' teplíčko
To zahřeje srdíčko.
Do hry přidá kuličku,
Myslí, že má myšičku.
Je to velmi legrační,
Člověk se smát nestačí
Když kočka tak skotačí.